Businesses everywhere rely on the durability of their commercial floor systems to provide years of performance and beauty, even under the heaviest use. From restaurants and malls to warehouses and manufacturing plants, property managers depend on floor coatings to deliver the best protection possible. Across Florida, professionals have relied on PPI Flooring for more than 25 years to deliver the best solutions for every industry, providing comprehensive outcomes that ensure lasting quality and support.
In our last post, we focused on the advantages of epoxy flooring applications. Today, we'll conclude our three-part series by discussing a few concerns about epoxy, as well as the final verdict for which application will best fit your business.
Epoxy Flooring
As our last post highlighted, this floor coating is designed to perform beautifully in a wide range of environments, adapting to industry-specific demands to be both protective and eco-friendly. Modern advancements have helped to create more affordable, effective solutions. In the wrong hands, epoxy floor coatings can end up becoming more of a long-term headache than a comprehensive solution.
Concerns
While epoxy — and other resins — can perform excellently in many environments, there are some concerns to be aware of. Situational concerns may arise that can heavily influence the final result of your epoxy floor coatings. Below are a few drawbacks that, while not commonly committed by professionals, can occur. When you are finished, be sure to contact us to see how we strive to minimize any errors.
Discoloration can occur – Inconsistencies in materials or the application process can result in slight discolorations in your epoxy. Additional coats may also differ, diffusing the beauty of your newly finished floors. If you decide to invest in epoxy floor coats, be sure to find a company with a reputation for success!
Cheaper epoxies are available – Unfortunately, many contractors rely on cheaper materials to save on costs. Regardless of your team's expertise, a poor-quality epoxy floor coating can result in poor performance.
Unacceptable subfloors –

Floor preparations

are key when preparing your existing floors for an epoxy coating. Improper subfloors can impact the beauty, shine, and durability of your finished surfaces.

Multiple coats – Based on how porous your surfaces are, an additional seal coat may be required. Your contractor will be able to discuss this situation beforehand
Slower cure times – Compared to other resins, epoxy can require longer curing periods. Different materials can be used to achieve certain goals, including fast-set resins, so be sure to plan ahead!
Keep in mind that many of the problems associated with the installation of your protective floor coating can be avoided by experienced professionals. PPI Flooring is here to provide an exceptional outcome on the first application, saving your business money, time, and labor.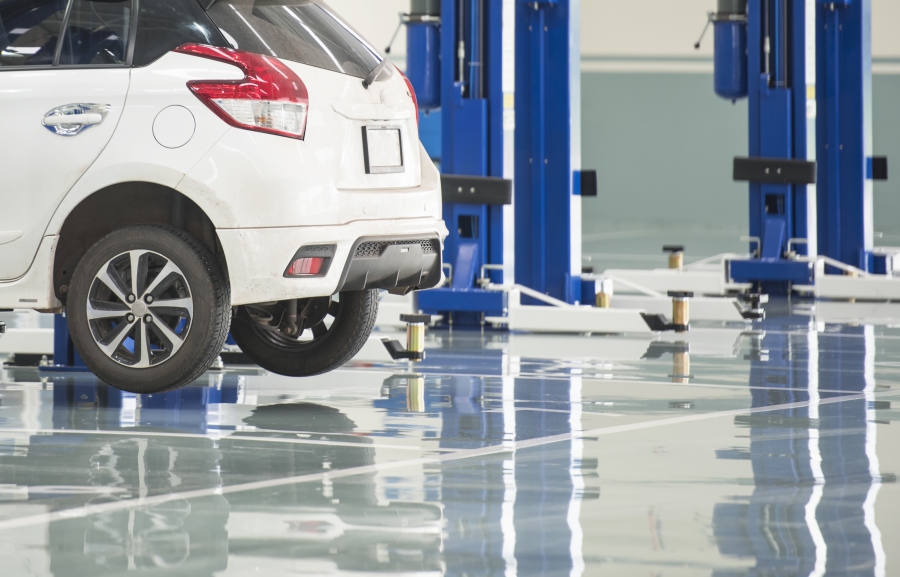 The Verdict
Polished concrete floors are ideal for businesses that expect light to medium wear and tear. Retailers, schools, and other businesses can benefit from the beauty and shine that polished concrete provides. Remember that polishing will be required, so be sure to plan for maintenance time!
Epoxy flooring is tailored to provide durability in high-intensity environments. When the right material is used, your epoxy floor coating can provide ideal protection and beauty that withstands the heaviest use. After years of use, refinishing and minor repairs will be the only things required to restore your floor's beautiful shine. You can invest in high-gloss materials to increase reflectivity, reducing energy costs by requiring less illumination. Some businesses, such as pharmacies and food processing plants, require very specific protections to meet industry regulations, all of which can be attained through quality floor coatings.
Meeting In the Middle
Those that want the finish of polished concrete with the performance of epoxy can now benefit from modern styles, including finishes that look just like the real thing. Your epoxy flooring can provide long-lasting protection while affording the beauty and depth of a polished concrete floor. Many clients are often surprised to see how many style options are available!
PPI Flooring is here to deliver the best results for businesses and projects of all types across Florida. Our epoxy flooring team in Orlando is trained to provide a diverse spectrum of floor system services to ensure that your facility is protected for the long haul. For more than 25 years, we've worked to hone our practices to ensure quality is present in all aspects of our service. Contact us today to learn more about commercial flooring solutions!