Healthcare
The cleanliness and professionalism of your hospital or healthcare facility is essential, not only for your patients, but also for your guests. Failing to maintain a clean hospital can lead to a number of problems, especially where the safety of your patients' health is concerned. From airborne illnesses to areas that may become slippery when wet, it is of utmost importance to keep your facility's flooring in immaculate condition. That's why you need high-quality epoxy flooring that can withstand the everyday demands that a hospital presents. With epoxy flooring from Orlando's PPI Flooring, you can be confident knowing that your patients and guests can navigate safely throughout your facility while reducing the chances that a slip-and-fall accident will occur.
---
Why Your Hospital or Healthcare Facility Needs Epoxy Flooring
Antimicrobial to reduce the spreading of germs
Slip-resistant
Fights back everyday wear and tear
Resistant to scratching and scouring
Holds up against corrosive substances
Stain resistant
With the best epoxy flooring surfaces from PPI Flooring, you can improve the level of light your hospital receives by choosing a highly reflective epoxy finish, such as high-gloss or metallic. This can help to make navigating throughout your facilities much easier, leading to satisfied patients and guests alike. Below are some of the high-quality epoxy finishes you can expect to find at PPI Flooring.
Epoxy Floor Finishes Offered By PPI Flooring
Quartz
Non-slip/textured
Flake
Metallic
Satin
High Gloss
Concrete polishing
Concrete stain application
As the leading epoxy flooring company in Orlando, PPI Flooring has installed high-quality epoxy flooring for some of the largest company in the world. This has allowed us to develop the expertise and skill set necessary to make your next flooring installation a breeze. Receive your no-hassle, no-obligation quote today by getting in touch with the friendly staff at PPI Flooring!
Complete Peace of Mind
During today's unprecedented times, more and more healthcare facilities are turning to epoxy floor coatings to provide clean, hygienic, and low-maintenance solutions. PPI Flooring specializes in addressing a wide range of medical flooring needs, focusing on your specific demands to ensure the best return for your investment. We're in the business of engineering floor systems to match each need, creating a beneficial surface that you'll rely on for years to come.
We're confident that our epoxy floor coatings can provide lasting beauty and value for your medical facility. PPI Flooring has experience helping a number of clients, including:
Sampling laboratories

Hospital campuses

Off-site clinics

Birth centers

Pediatric clinics

Imaging centers

Nursing homes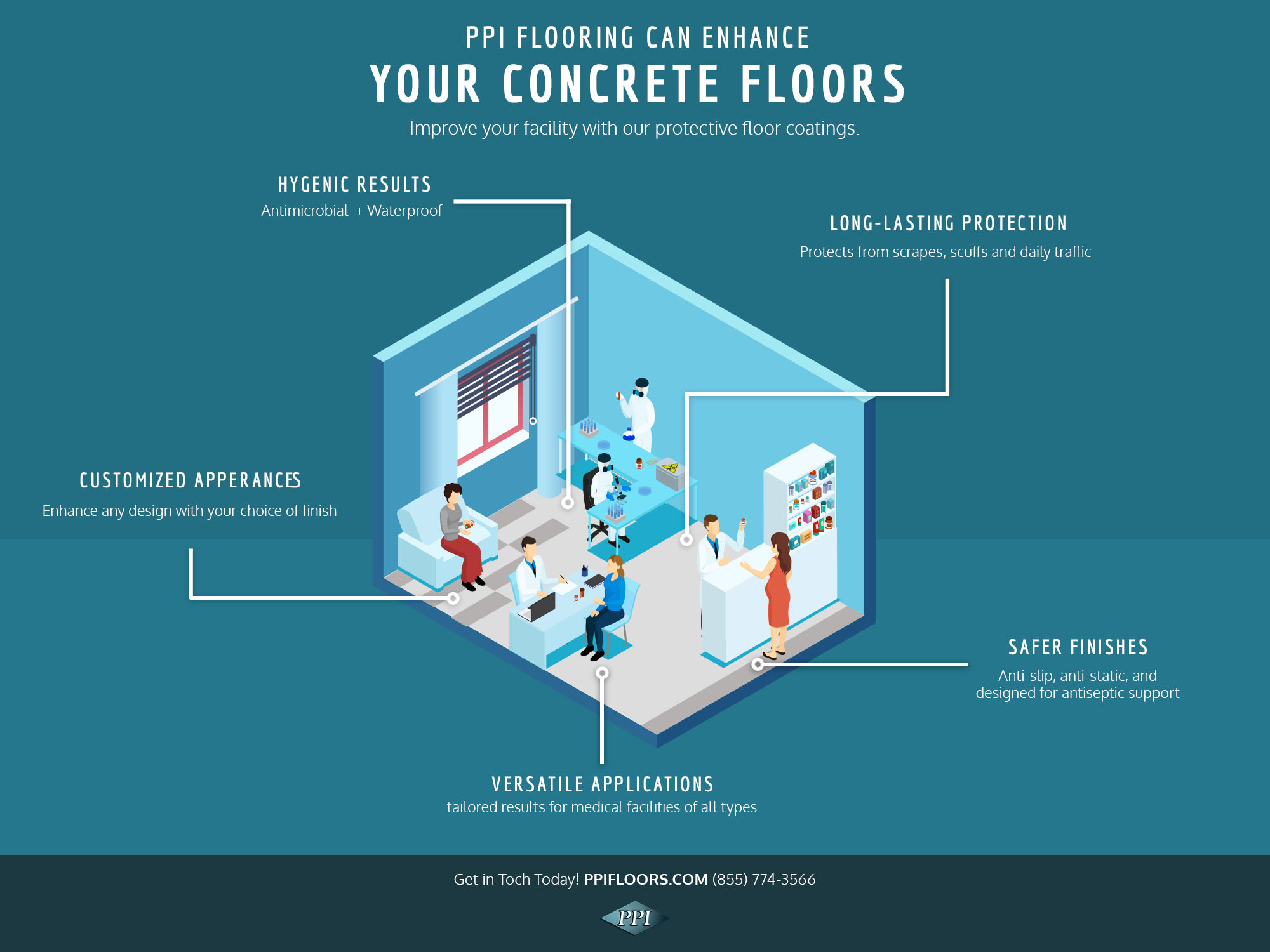 Request Your Quote
PPI Flooring of Orlando strives to provide tailored results to each and every client we assist. After installing more than 10 million square feet of epoxy flooring, we're confident that we can optimize your facility for clean, safe, sustainable results.
From new buildings to complete remodels, our epoxy flooring team offers the support services to create an ideal floor system. Contact us online today for assistance, and be sure to provide more information for your free project quote!
---