Food and Beverage
One of the most intriguing properties of epoxy floor surfaces for restaurant owners is the fact that epoxy flooring is antimicrobial, meaning that mold and other bacteria will not be able to find shelter in their business' flooring. Epoxy flooring is far superior to other flooring surfaces where slip resistance is concerned, meaning that you will be able to effectively reduce the likelihood that your employees will become injured while at work.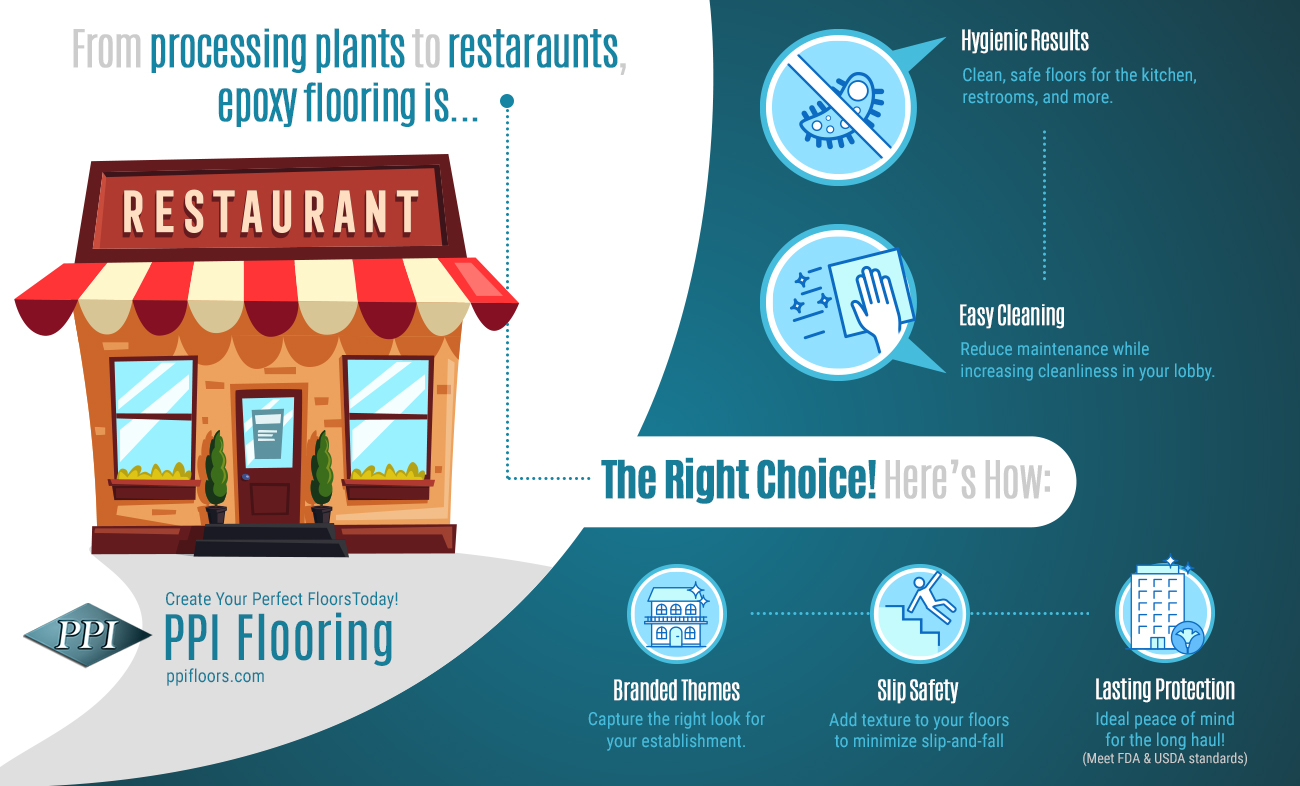 Ideal Epoxy Flooring Solutions
Many entrepreneurs do not realize how important their floor system is until they're in the midst of a mid-day rush. PPI Flooring is here to help you achieve success right away, relying on our epoxy materials to create a durable, long-lasting, and beautiful finish.
If you've never considered epoxy flooring for your restaurant, it can help to understand just how beneficial this material can be in creating the best results for your current needs and future growth:
Hygienic protection — Areas such as kitchens and restrooms can benefit from seamless finishes with epoxy coatings, eliminating hygienic concerns associated with moisture and spills. 
Less maintenance — Seamless finishes also ensure that cleaning your epoxy flooring is a breeze. In high-traffic areas, this can prove to be ideal. Simply sweep, mop when needed, and let your floors shine!
Aesthetic improvements — Concrete floors are nice, but can only offer so much visual beauty. PPI Flooring can help you achieve a beautiful finish to reinforce your brand and the quality behind your establishment. Check out

our finishes

for inspiration on how to beautify your restaurant.

Lasting protection — Daily use can begin to wear your concrete floors down, marring their beauty and leaving them open to further damage. An epoxy coating can provide a sturdy layer of protection from dropped objects, sliding chairs, and more.
Safer results — No matter your flooring needs, our pros can address the problem to generate the safest results. Anti-slip textures can prove to be major improvements in the food industry, where slips and spills are more commonplace.
Epoxy Floor Finishes Offered By PPI Flooring:
Satin
Non-slip/textured
Concrete stain application
---
THE BEST FLOORING FOR THE FOOD AND BEVERAGE INDUSTRY
Epoxy flooring is the perfect floor type for the food and beverage industry. They can withstand the wear and tear they face from constant spills, dropped items, such as plates and food, and footfalls back and forth. Plus, epoxy floor solutions are super easy to clean, which is why they have been approved as safe by the Food and Drug Administration (FDA) for the food and beverage industry. Epoxy flooring is seamless, meaning there are no gaps for the food to get stuck in, which then can become a hazard for germs and mold growth. Plus, epoxy floors add brightness to any room due to their shiny finish, which can be customized to your place.
Are Epoxy Floors Worth The Cost?
Anytime you, as a business owner or manager, can make your life and the lives of those around you easier, then it's worth it. Epoxy floors are hygienic, durable, long-lasting, and offer superior protection to your flooring. They are non-slip, keeping everyone in your food and beverage manufacturing business safe, even with a bit of dampness on the floor. Plus, epoxy flooring is resistant to fire, which when you work around an oven or a stop perpetually, can always be a risk. In sum, epoxy flooring takes the cake (pun intended) for food and beverage manufacturing flooring.
Proven Industry Protection
Ultimately, you want your food and beverage manufacturing floors to last a long time, all in a beautiful and antimicrobial manner. PPI Flooring of Orlando can help you achieve all of your goals and more, abiding by all industry standards and regulations to ensure that your business is optimally prepared for success.
If you are thinking about outfitting your food establishment with the best flooring surface currently available, then get in touch with Orlando's epoxy flooring experts today at PPI Flooring. We are Florida's top flooring company, offering epoxy floor installation services to local businesses, as well as many other companies around the world, and we know that you will be impressed with our wide variety of options available to you. Request your no-obligation quote today by contacting PPI Flooring!
---